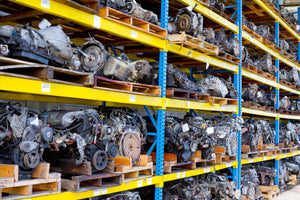 How to Find Discounted OEM Parts for Your Vehicle's Restoration, Modification or Broken Piece
It's been a while since you've felt the thrill of driving, and it's time to get your car back on the road. You used to drag race in high school, but now you're just cruising around town for fun. Your engine sounds good again, and all that squeaking from the brakes has finally gone away with some new pads and rotors. Now there is one more thing standing in your way: a missing exhaust tip! "How am I going to find an OEM part at a discounted price?" you ask yourself. There are several salvage yards that specialize in used auto parts or even sell used auto parts online. Eastern Auto Salvage is a leading supplier of used car & truck parts for late model domestic vehicles as well as imported cars and trucks from 1970 – current. We have been serving our customers since 1985 with an A+ rating from the Better Business Bureau.
When looking for used auto parts, it is important to find a reputable salvage yard with OEM parts. Many times you can find used exhaust tips or any other part for your car at a fraction of the cost from the dealer. So before you go spend hundreds of dollars on a new part, check out your local used auto parts dealer first! Eastern Auto Salvage has used automotive parts for all types of vehicles. We have used engines, transmissions, rear ends, and axles for many makes and models including cars & trucks from the 1940's - current. At Eastern Auto Salvage we also specialize in used car bumpers serviceable to include Mercedes Benz, BMW, Audi, and other luxury vehicles.
We also offer a wide range of used OEM parts for domestic and import cars and trucks including used exhaust tips. If you are in need of a specific used car or truck part give us a call, chances are we have it! Visit EasternAutoSalvage.com to view our online catalog
---